College life; everyone expect huge social life, occassionly drinking, and learning a lot of interesting things. But in reality it has a lot of black out night and learning what you won't use like ever. I faced the reality after one year so you can trust me.
So let's the anime …

Story:
Iori finally starts his college life in Izu University where he can meet some girls after he was in an only boy high school. He expect some drinking night, a girlfriend, and beautifulcollege days but in reality he got two upperclassmen who make him drink every time and after two days the only girls he meets is his cousin, Chisa who has already some trust issues about him and his other cousin Nanaka who likes her sister more than it is considered healthy. He lives with his uncle in a diving shop where we found the main point of the anime : diving. After some black out night Iori joined the diving club and now he tries to survive his college life.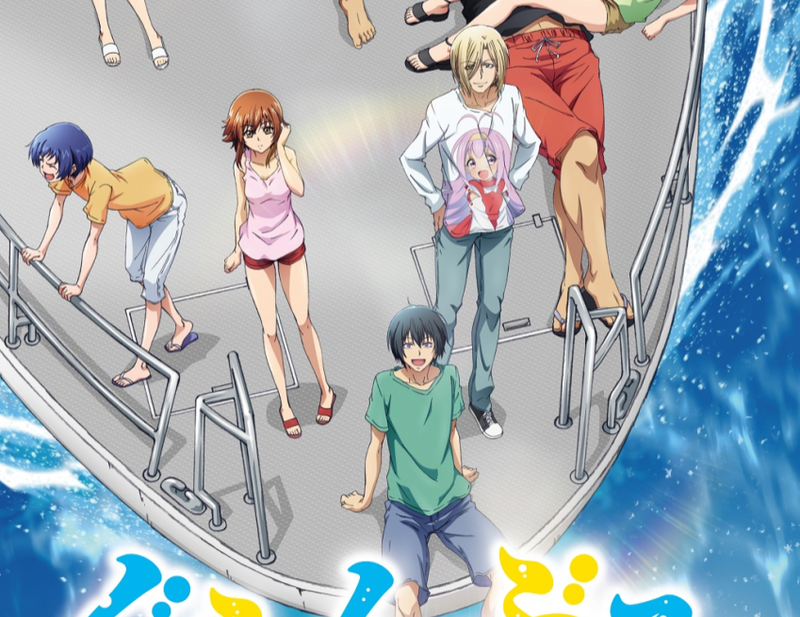 Main characters:
Iori Kitahara
The main character who looks like the most normal among all the other characters expect when he is drunk and he is drunk most of the time. First he tries to avoid the diving club but he finally joined and later on he started to get interested in ocean lives.
Chisa Kotegawa
She is cousin of Iori who hasn't meet with him for 10 years and when it finally happened she disappointed in him because he became an everyday alcoholic college 'student. She lived Izu and she is also member of the diving club because she is really love ocean life. She is kind of tsundere but not in annoying way. She seems to be interested in Iori.
Kouhei  Imamura
A unlucky college student who was forced to join the diving club so Iori can get some clothes. He is true blood otaku who share the same fate as Iori.
Recommended:
We got an anime about college I think the last one I see something like this was Golden Time. I recommend it to everyone who is looking for a good comedy anime.
 ~Dangerous~
Don't try the oolong tea you had learnt for this anime. Trust me in this one.